Our pool maintenance services are handled by skilled and experienced technicians.
When you have a pool on your property, you get to enjoy all the benefits that come with having your own private place to swim, splash around, and relax. However, along with those benefits comes a long list of responsibilities. Keeping up with regular maintenance is a must to keep your pool in good condition and ready for use, but tackling those tasks can take up a lot of your free time. Instead of trying to handle it on your own, contact us at Modern Pool Solutions. We offer pool maintenance that will give you back your free time without sacrificing the cleanliness of your swimming pool.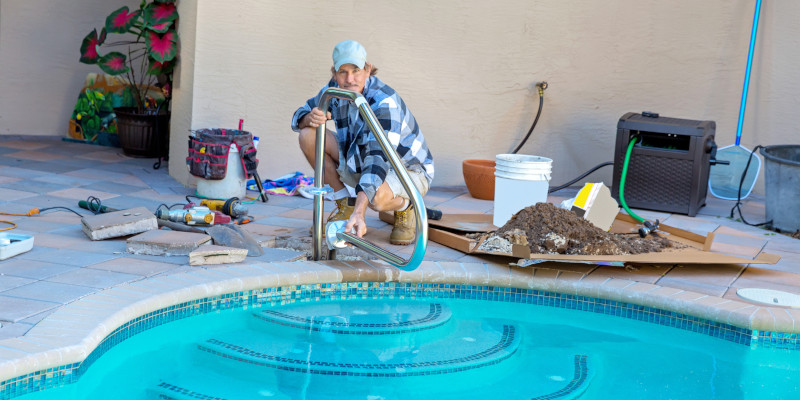 Our pool maintenance services are handled by skilled and experienced technicians. We can come to your property weekly to perform routine maintenance, including vacuuming the sides of the pool, cleaning out the skimmer baskets and pump, verifying the filter pressure, and performing any necessary chemical treatments. Our technicians also have the skills and experience needed to handle other additional maintenance tasks for a small fee, such as swimming pool opening and closing and repairs.
By turning your pool maintenance tasks over to our team members, you can spend your free time enjoying your swimming pool rather than dreading the to-do list associated with its upkeep. We can provide you with weekly pool maintenance on your Belmar, New Jersey property throughout the warmest months of the year. Our service contracts are available at affordable prices, which can be made in three easy payments. If you're ready to offload your pool maintenance checklist to professional pool technicians, contact us today.
---
At Modern Pool Solutions, we offer pool maintenance services in Lincroft, Belmar, Red Bank, Oakhurst, Eatontown, Long Branch, Freehold Borough, Highlands, Lake Como, Bradley Beach, Keansburg, Shrewsbury Township, Asbury Park, and Keyport, New Jersey.
Similar Services We Offer: