We'll work with you to create the beautiful, functional, and safe pool and pool deck you want at your home.
No pool installation is complete without a beautiful and functional pool deck surrounding it. If your pool contractor has left you to handle the finishing stage on your own, here at Modern Pool Solutions, we can create the outdoor space you envision. We can also handle your pool deck installation along with the installation of a vinyl or concrete pool. We offer a variety of pool deck options, including standard poured concrete and interlocking paving stones. We put a great deal of dedication into the quality of your pool deck because we know having a safe, trip-free, and slip-resistant pool deck is of critical importance.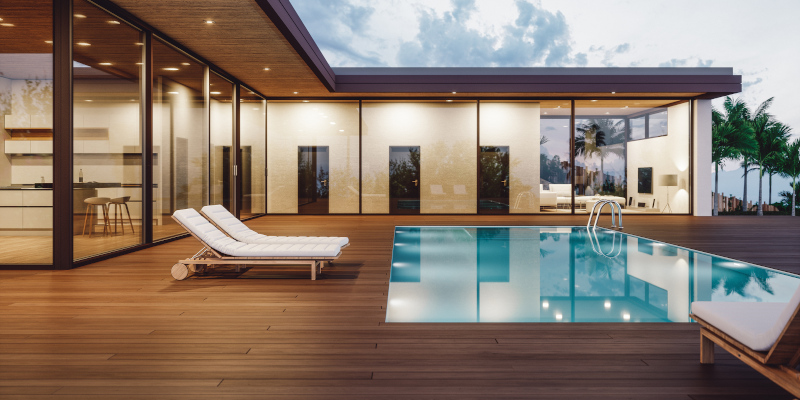 Let's face it– water doesn't stay inside the pool when your family is having a blast. They'll be jumping into the pool and running around the pool deck, so you want to keep them safe so their fun doesn't come to an end with a visit to the hospital. You can rest assured that we'll work with you to create the pool and pool deck you want at your Belmar, New Jersey home that will look great and offer all the benefits that matter to you and your family.
Your pool deck is also an aesthetic feature, so we'll take into account what will complement your swimming pool and the style and character of your home. A quality-built pool and deck can add tremendous value to your home. With 15 years of experience in the industry, we can be a valuable resource for every step of your pool deck project. We can also help you if your current pool deck is in need of some help to get it back to looking its best. Reach out today to learn more.
---
At Modern Pool Solutions, we offer pool deck installation services in Lincroft, Belmar, Red Bank, Oakhurst, Eatontown, Long Branch, Freehold Borough, Highlands, Lake Como, Bradley Beach, Keansburg, Shrewsbury Township, Asbury Park, and Keyport, New Jersey.